Hi long time no see...orz;
Sorry haven't been to active lately! but I'm back (I THINK HAHA)
To keep a long story short: depression.
and I really didn't have the motivation to translate anything..
and seeing as i'm the only translator it didn't help releasing stuff lol
but yes ON TO THE SMEX.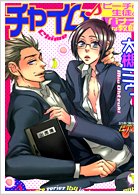 CH2
✖
mediafire
✖
megaupload
✖
sendspace
GOOD CHAPTER, OHYES.
enjoy!
I'm hoping Maou no amai keiyaku ch3 will be next, I just gotta scan it...
but yes :D ♥